About the Book: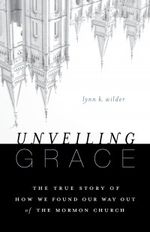 For thirty years, Lynn Wilder and her family lived, loved, and promoted the Mormon Church. Then on a Mormon mission trip to Florida, their son Micah had a revelation: God knew him personally. God loved him. And the Mormon Church did not offer the true gospel.
Micah's conversion to Christ put the family in a tailspin. They wondered: Have we believed the wrong thing for decades? If we leave Mormonism, what does this mean for our safety, jobs, and relationships? Is Christianity that different from Mormonism anyway?
As Lynn tells her own story of abandoning the deception of Mormonism to receive God's grace, she gives a rare look into Mormon culture, what it means to grow up Mormon, and why the contrasts between Mormonism and Christianity make all the difference in the world.
Whether readers are in the Mormon Church, curious about Mormonism, or simply looking for a gripping story, Unveiling Grace will strengthen their faith in the true God who loves them no matter what.
---
TITLE: Unveiling Grace
SUBTITLE: The Story of How We Found Our Way Out of the Mormon Church
AUTHOR: Lynn K. Wilder
RELEASE DATE: August 20, 2013
ISBN-13: 978-0-3103-3112-4
CATEGORY: Religion/Christian Life
RETAIL PRICE: $15.99
BINDING: Paper back/ soft back
NUMBER OF PAGES: 352
PUBLISHER WEB SITE
AUTHOR WEB SITE